Our passion for ceramics

OURIOS ceramics are handmade with love and care using high-temperature clay (Stoneware), baked at a temperature of 1190 °C (2174°F), and are partially decorated with brass, alpaca and recycled glass. You can find "OURIOS" ceramics in several stores in Greece and abroad.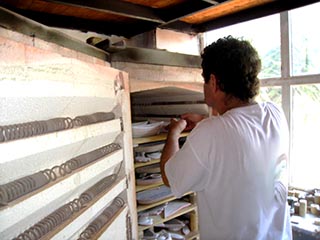 Babis Magdalinos
Ceramic Artist
Babis Magdalinos owns a ceramics workshop since 1987. Since 1990 his workshop is part of the "Verekynthos Cultural Village" in Souda, Chania, under the name "OURIOS". He has successfully participated in various exhibitions both in Crete and Athens. He is a member of the Artistic Handicraft Cooperative of Chania.
Few words about the Artist
Babis Magdalinos was born in Chania, Crete. In 1987 he graduated from the three-year course "Institute of Ceramics Art and Technology of Agioi Pandes Apokoronou", taught by Christopher Sklavenitis and Andreas Garedakis. He has attended various seminars regarding ceramic artistry.
---